Gartenpavillon

Garden Pavilion
Aesch, Switzerland
2020
---
Bauherrschaft
/
Client
Private
---
Architektur
/
Architecture
Hasler Maddalena Architekten
---
Ausführung
/
Execution
Lehm Ton Erde Baukunst GmbH
---
Konstruktion
/
Construction
Prefabricated self-bearing
---
Produkte
/
Products
ERDEN Vorsatzschale,
Lehmo Lehmofen
---
Foto
/
Photo
Samuel Hasler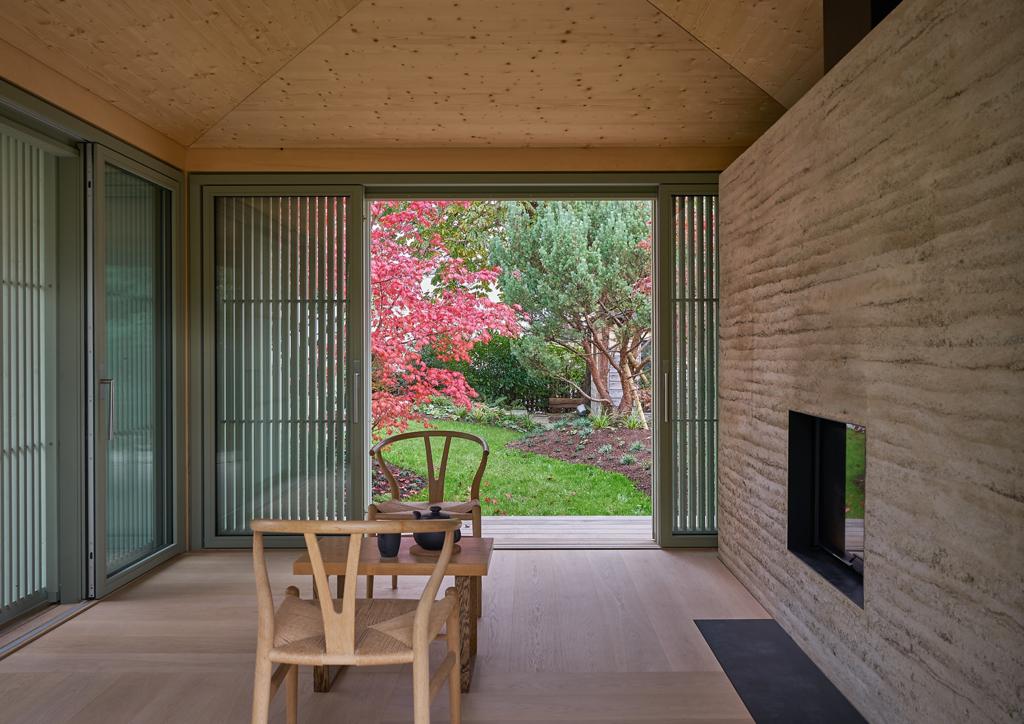 Dieser kleine Gartenpavillon, entworfen von Hasler Maddalena Architekten, steht inmitten eines ruhigen japanischen Gartens in Aesch, in der Nähe von Basel, Schweiz. Ein großer, minimalistischer Lehmofen im Inneren fungiert als Erdwand und ergänzt mit seiner reichen Haptik perfekt das Gefühl der Ruhe, das der Garten bietet. Die riesige thermische Masse aus Stampflehm wirkt wie eine Wärmebatterie, die die Energie des Feuers speichert und ihre Wärme in kühlen Herbstnächten langsam abgibt.

This little garden pavilion, designed by Hasler Maddalena Architekten, is set beautifully amongst a tranquil Japanese garden in Aesch just outside Basel, Switzerland. A large, minimal Lehmo oven inside acts as a feature earth wall, perfectly complementing the sense of peace the garden offers with its rich haptics. The huge thermal mass of rammed earth acts like a heat battery, containing the energy from the fire and slowly releasing its warmth on those cool autumn nights.